Standing
at the
threshold
of innovation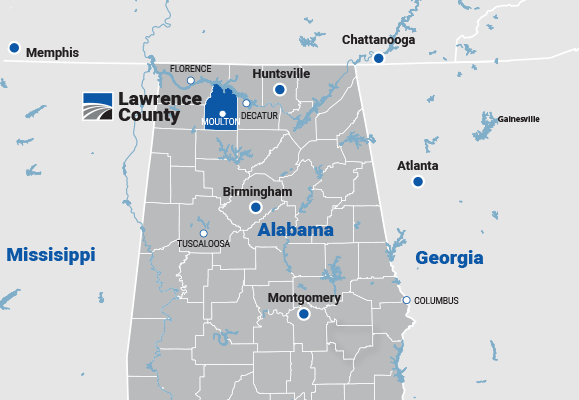 Located in North Alabama, Lawrence County, Alabama offers competitive tax incentives, affordable commercial property, workforce training and a low cost of living to businesses located in and relocating to the area. Lawrence County is bordered on the north by the Tennessee River and is centrally located near Huntsville in the Tennessee Valley, between major cities in the south including Birmingham, Nashville, Memphis and Atlanta.
About Lawrence IDB
The Industrial Development Board of Lawrence County serves as a single-point-of-contact for emerging or expanding businesses and industries. The Industrial Board works closely with state, local government agencies, and financial institutions to present prospective clients with a complete array of resources necessary to facilitate expansion and relocation into any part of Lawrence County.
Our
Community
*Lawrence County is home to the pristine Sispey Wilderness, part of the William B. Bankhead National Forest.

Easy commutes, close proximity to two-year and four-year colleges, and numerous nearby recreational, cultural and educational opportunities all make Lawrence County an attractive place to call home.
Click on one of the links below to learn more about our community.